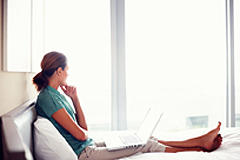 Hiring a Family Law Attorney
The emotional struggles one faces when dealing with a divorce, custody issue, or any other family-law related legal issue can seem overwhelming. An attorney can help navigate the system with you and be your advocate when you are faced with important decisions. While there will be many decisions you make along the way related to your or your children's interests,
who
you choose to represent you through this process is one of the most important decisions you make. Here are the top 5 things to think about when hiring your
family law attorney
:

What is the attorney's reputation and experience?
Do your homework. Talk to past clients of this attorney (if you know any), talk to other attorneys who practice in the same community, and research online to find out what you can about this person. What is important to know? Find out whether this attorney is known for being responsive, attentive, organized, respected by peers, involved in the community, etc. Is this attorney known as someone who works well with opposing counsel and tries to resolve cases outside of court or is this attorney known for leaving "scorched earth" behind when he/she is done with a case? A good attorney can advocate your interests without being unreasonable or difficult. The more "difficult" your attorney is, the higher your bill will likely be.

Can you afford this attorney?
Ask what the attorney's hourly rate is. Ask whether the attorney charges any flat fees. Ask what the retainer will be. Read the attorney fee agreement carefully and don't be afraid to ask questions! A family law attorney will not be able to tell you exactly how much you will spend on your case because there are too many unknowns – but this doesn't mean you shouldn't consider your budget when deciding who to hire. If the attorney you consult with has a higher rate than you think you can afford, ask if there are any other attorneys in their firm at a lower rate who could work on your case. Finding the right fit financially is very important.

Does the attorney have support staff?
An attorney with support staff to help with your case often means you are going to get better service. Attorneys have several clients at one time and may be unavailable from time to time in trial, depositions, mediations, vacation, etc. If an attorney has a legal assistant, paralegal, or other attorney helping him/her, this means your case will get the attention it needs even if your attorney is not always available.

Can you be open and honest with this attorney?
While your attorney doesn't need to be your new best friend, your attorney should be someone you feel comfortable being honest with. You will be faced with many difficult decisions in this process and you want to be sure you are able to talk with your attorney openly and candidly.

Is this attorney real with you?
A good attorney will give you an honest opinion of your case even if that includes an opinion you may not necessarily want to hear. A good attorney will talk about the pros and cons of your position and help you weigh your risks. If the attorney you meet with promises you everything you're asking for – ask yourself whether this attorney is really right for you.
Gevurtz Menashe has been practicing family law in Oregon, Washington, and Idaho for over years. We represent clients with tenacity and compassion. To speak to an attorney, call 503-227-1515 or
contact us
online.
Paige A. De Muniz, Shareholder (Family Law)