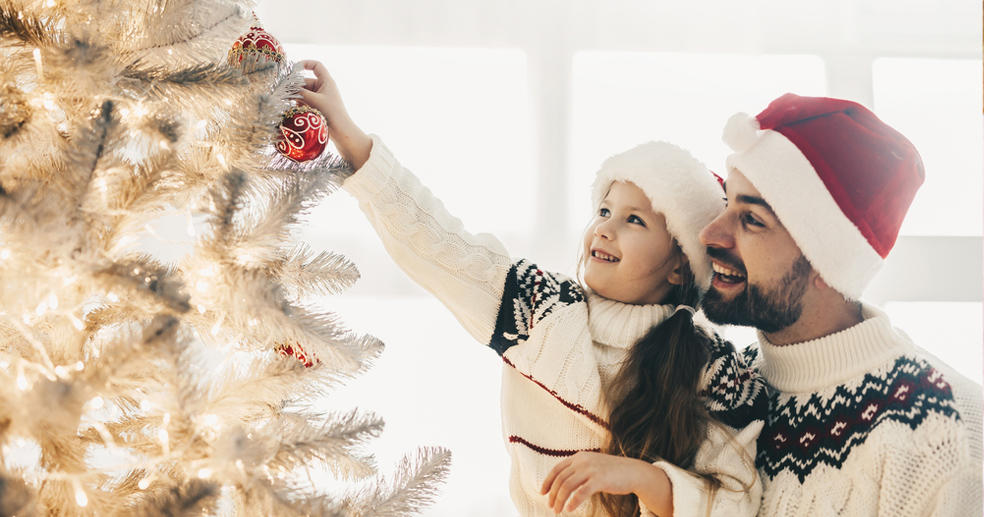 The holidays are a time for celebration, joy, and spending time with those you love. As soon as the weather turns and Halloween passes, the holidays can be an especially stressful season for single/separated parents or blended families. To ease the anxiety and stress this year, here are a few co-parenting strategies for divorced or separated parents during the holiday season.
Stay Positive:
Being a single parent is challenging enough, and the holidays can make it a little tougher. This time can be trying, but
staying positive
keeps those around you, including your children, positive as well. Finding meaningful ways to be together is sometimes more important than creating the "perfect" holiday experience.
Consider speaking with your former spouse and establish a budget for helping your children purchase presents for their loved ones, or perhaps partnering on a coordinated gift for the kids. Getting the perfect present from both parents could carry a positive impact, help generate a sense of goodwill, and create consistency for your children.
Your children are your main focus:
Generally, children look forward to the holidays all year long. It can be one of the most exciting times of the year for them and although a big responsibility, keeping the magic of the holidays alive as a single parent is important.
While your children are focused on the holidays, try to stay focused on them. Try creating new traditions or adjusting old ones from when you were married, which can be especially useful for older kids. A divorce or separation doesn't have to mean that all the holiday traditions should be over. This can be an opportune time to create new and meaningful memories during this time of transition.
Be flexible and consciousness:
For your child's benefit and happiness, try to remain civil when speaking about your ex-spouse. Your child's focus should be on family, fun, and having a break from school, rather than the challenges and details of their parent's relationship. We know divorce is hard on all and co-parenting isn't without its challenges, but your children should be as removed as possible from the pressures.
Be mindful of your time and your ex spouses' time. Being flexible and consciousness will go a long way for smooth co-parenting. Many times, parent's schedules can get chaotic as the holidays draw near, so try your best to be accommodating.
It's important to recognize that willingness to accommodate the other parent's plans for the children during the holidays can lead to reciprocity. Try to think of the holidays as a time to show your desire to provide the best holiday experience for yourself and your children.
Co-parenting for many people means sharing the holidays. While this may seem challenging, try your best to remain positive. If it is not your year to have your children on the actual day, take the opportunity to create new traditions and celebrate on a different day. Your children will love the adventure of new traditions and all the excitement they bring. The main thing is to celebrate, have fun, and spend time together!
Take care of yourself:
Managing stress this time of the year can be difficult, which is why it is important to also take care of yourself.
Whether it means allowing for some relaxation time, utilizing your support system or simply taking time for self-care, it will pay off in the long run. There are many ways you can manage your stress and make sure that you are staying happy and healthy during this joyous season.
Exercise, meditation, and nutritious eating are all ways you can take care of yourself during the holidays. Not only are these suggestions fantastic for your mind, body, and soul, but those around you will benefit as well. Holidays are the time to do what makes you happy and surround yourself with those you love.
Sometimes we can get caught up in the holidays and hyper-focus on our children, but remember, Taking care of yourself will also help keep your spirits high.
Wishing you a happy holiday!
We hope our co-parenting holiday survival guide helps you during this season. Divorce transitions can be difficult on families, but it's important to remember what this time of year is all about. Keeping that in mind, taking care of your children, and taking care of yourself, will make the holidays more enjoyable and memorable.
If you have any questions, please feel free to reach out to our team at Gevurtz Menashe. We are here to help. Give us a call today. Our Portland offices can be reached at 503-227-1515 and our Vancouver office at 360-823-0410. You may also contact us online to schedule a consultation.
*This is general information only and not meant to apply to specific situations without consulting a tax professional*
Written by
Brooke Ferris,
an Associate Family Law attorney at Gevurtz Menashe. She is a member of the Oregon state bar and focuses her practice exclusively on family law issues, including divorce, custody and support issues, and modifications.