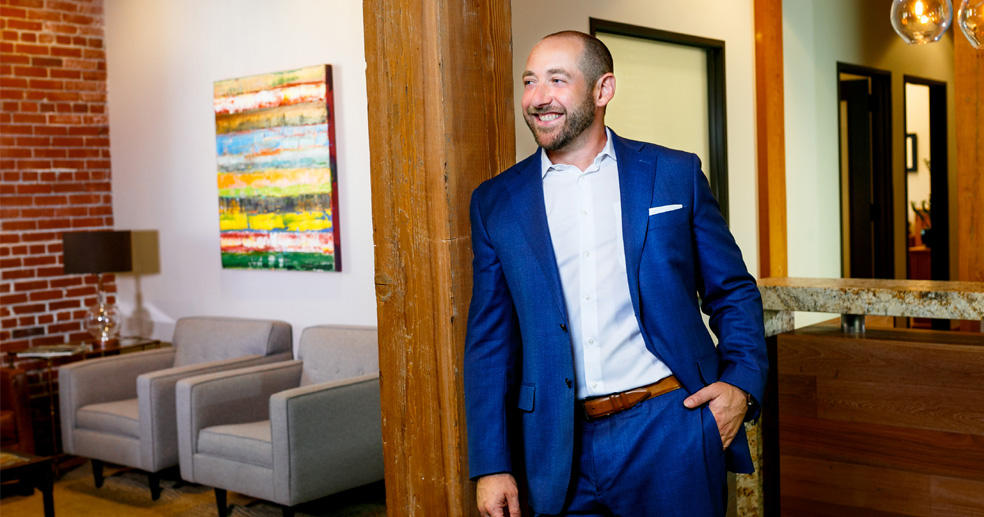 We are excited to announce that our very own Shawn Menashe was a featured guest on Portland Business Journal's "Thought Leadership" podcast. Points of discussion range from how Gevurtz Menashe came to be to the work Shawn is most proud of.

You can listen to the podcast, visit Portland Business Journal for an overview, or read the full transcript below. Be on the lookout for future podcasts from Gevurtz Menashe throughout the year.

Son of Founder Reflects on Portland Law Firm's 40 Years

What follows has been lightly edited for clarity:

Introduction: This is the Portland Business Journal "Thought Leadership" podcast sponsored by Gevurtz Menashe. Featuring top professionals and providing insight to keep you and your business informed.

Interviewer: Shawn Menashe is the managing shareholder at one of Portland's most respected law firms, Gevurtz Menashe. Shawn, we'll talk about how the approach to family law has changed in a moment, particularly at your firm, first though, share the story of Gevurtz Menashe with us.

Shawn: Well, my dad obviously founded the firm well before I was practicing, back in 1982 and at the time it was very uncommon to have boutique law firms focusing on one specific area. So, while he was cutting his teeth at some of the larger firms in town, practicing in 3 or 4 areas of law. He started to recognize that to really hone his skills and be the best, it really took focusing in that one area. And what he gravitated towards naturally was family law because he liked working with people and, at a very young age of 28, he branched out from the safe security of a big cushy job at a firm. Ron Gevurtz and he started a small firm with the hope of being able to serve everyone in the community when it came to their family law and relationship based needs.

Interviewer: And Shawn, 40 years now, there are so many different law firms out there. In your mind, what is it that separates Gevurtz Menashe from others?

Shawn: You know, we still approach the practice of law, even though we've grown to about 30 or 35 lawyers, as a family and as a group. And so where family law is usually a lot of individual practitioners, we really approach it in a team atmosphere so the collaboration and just having a group of people to share ideas and experiences off of that wealth of knowledge is really unique to not only I think Portland, but the country as a whole. Very seldom do you find in any of the geographies, even in some of the bigger cities, law firms as large as our doing exclusively family law and estate planning. And I always believe that we hire really great people who not only are smart and work hard and have great attitudes, but genuinely care about the people we work with and for.

Interviewer: Shawn Menashe is managing shareholder at Gevurtz Menashe, and Shawn your firm has the reputation as the premier family law firm thanks in large part to the efforts and the community involvement of your dad, Albert, who you spoke of earlier. You know a few years ago you decided to expand the practice, why'd you go that direction?

Shawn: Well, it was really born out of the organic need of our clients and where we'd historically at that point done family law for 30 years exclusively, and family law obviously encompasses a lot of different areas, from grandparent rights to adoption to name changes and divorce and modifications, but we really were getting so many requests from our existing clients for help with their estate planning. It was no surprise, when you go through a divorce your beneficiaries often change, certainly your financial landscape does, and so we had always been sending them out to a lot of the great firms in town but the reality was our clients were just exhausted after going through one legal process to start another. And so after all the requests, we started to listen to our clients, which is usually a good thing in business, and brought in some of the best and brightest minds in town, and really never had intention of doing much more than serving our existing client base, but we've grown from 2 to 6 estate planning lawyers in 3 quick years.

Interviewer: You know, it's interesting that you do that because when you look at family law, hopefully for most people they see you maybe one time, sometimes twice, throughout their lifetime for one issue or another, so you really have to become a trusted counselor and an advisor more than anything right?

Shawn: Yeah, absolutely. From the day my dad started the law firm back in 1982, being from a small immigrant family and a very small community, his goal was to be 'your families law firm' and I think that spirit has really carried out in everything we do, today. And as much as a divorce or a family law related issue may be transactional in nature and have a short time frame on it, with the estate planning and our clients asking if they can stay, really wanting to transition that piece of mind they got on the family law side to estate planning. It was just a natural fit and it's been a great addition to our practice area and our clients now go from being 3-9 months clients to really we are your families law firm and they're with us for a lot longer, often times the full duration of their lives now.

Interviewer: Shawn Menashe, managing shareholder at Gevurtz Menashe joining us, you know you often encounter clients and their families with really what isn't a high point in their lives, it's got to be tough. How do you and your partner's deal with that?

Shawn: You know, the conflict piece is scary to a lot of clients. It's often the thing that gives lawyers the ugly reputation where you hear, "nasty, mean, ugly" and our firm, since the beginning, and I really give credit to my dad and Ron Gevurtz, they focus on professionalism, they focus on preparation, and their whole goal was not only to get a good outcome but to really instill a lot of integrity in the process, so focusing on the how you get their piece. So, at the end of the day the client just not ok with the result, they're very proud when they look in the mirror of how they comported themselves. And I think that the lawyers really have an obligation to steward that process piece and so we kind of try to demystify the conflict piece and build in a lot of integrity into the process and make sure our clients are proud of the not just the outcome but how they got there.

Interviewer: Now Shawn, you're busy running the firm, you're also still active in your practice, you're in court, you're all over the place. Is there a recent case, and it doesn't have to be yours, maybe a recent case that the firm has handled that you're particularly proud of?

Shawn: Yea, there's something that does jump out to me. When I was younger, I think it was the bigger more complex cases, the ones that get the most notoriety in the media, but yesterday actually, I tried a case in Multnomah County, a pro bono case, where I was representing the children. And reflecting on that for today's interview and our little time we have together that really, not just for myself but for my firm, is the piece that I am most proud of. I think when you measure the amount of pro bono hours that our lawyers do for the community at this point in time, I think if you were to ask any of one our lawyers or partners that's the piece of what we do that we're the most proud of, it's how lawyers can give back to the community and you know charity really starts at home. And for us it's about helping the people that need it most in our little neighborhood here in Multnomah, Washington, and Clackamas county and so it's not the size of the case it's about helping the people that need it most and for me right now it's those pro bono cases are where Im most proud of that we're doing.

Interviewer: And from a broader perspective, maybe tell us what issues or topics are currently top of mind for you and for your partners.

Shawn: Absolutely! I don't think there's any real sexy topic in family law but we're seeing a lot more relationship based agreements. Whether it's prenuptial agreements, postnuptial agreements, or more than anything a lot of people who are cohabitating who want to make sure they have their rights locked in and expectations where they're not getting married. So we're seeing a lot more second marriages and we're seeing a lot more relationships without the intention of getting married. So, that's one really big topic. Another one is collaborative law. And that's essentially, it really address the process, so before you get started both parties agree not to litigate and its a huge area of law in Colorado, getting a lot of momentum in Washington and Oregon, and we're really trying to adapt and make sure that we're at the forefront of that piece. And then of course, everyone's hearing about the tax changes, and so on the estate planning side we're working very hard to make sure that all of our clients' gifting and tax-related issues are gonna be addressed, current, and that they're informed and educated more than anything.

Interviewer: Shawn Menashe, the managing shareholder at Gevurtz Menashe. Shawn, thanks for joining us.

Shawn: Thank you very much!