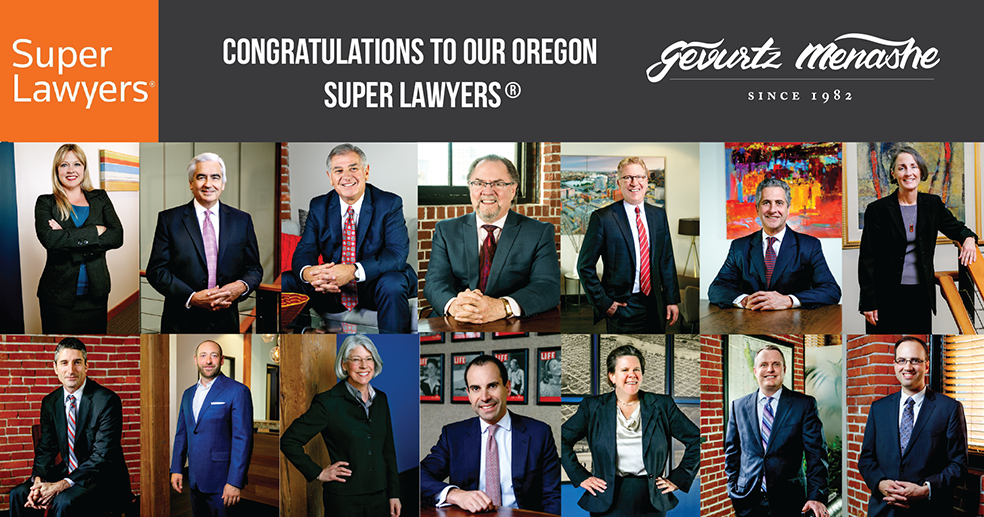 The Gevurtz Menashe team is honored to announce that sixteen of our attorneys were named to the 2019 Oregon Super Lawyers® & Rising Stars list:
[
Listed right to left, top to bottom]:
Robert Demary, Robin Wright, Kelly Evans, Mark Barzda, Tiffany Jensen, Bill Howe III, Albert Menashe, Jeffrey Matthews, Marshal Spector, Steven Zipper, Shawn Menashe, Julia Hagan, Zachary Fruchtengarten
, and
Kathryn Root
were all selected as 2019 "Super Lawyers®"
The publication identifies the top five percent of attorneys in the state, as chosen by their peers, and through the independent research of
Super Lawyers
magazine.
Albert Menashe, Shawn Menashe, Zachary Fruchtengarten,
and
Kathryn Root
received special recognition for being among the top 50 attorneys in Oregon and
Julia Hagan
and
Kathryn Root
were ranked among the top 25 women attorneys in Oregon.
In addition to the selected "Super Lawyers®," this annual list also celebrates the achievements of young lawyers under the age of 40 or with less than 10 years of practice.
Katie Goss
and
Shannon Hall
were selected as 2019 "Rising Stars®."
Each year, Super Lawyers® undertakes a rigorous, multi-phase selection process that includes a statewide survey of lawyers, the independent evaluation of candidates by attorney-led research staff, a peer review of candidates by practice area, and a good-standing and disciplinary check. For more information on the methodology used, visit
www.superlawyers.com
.