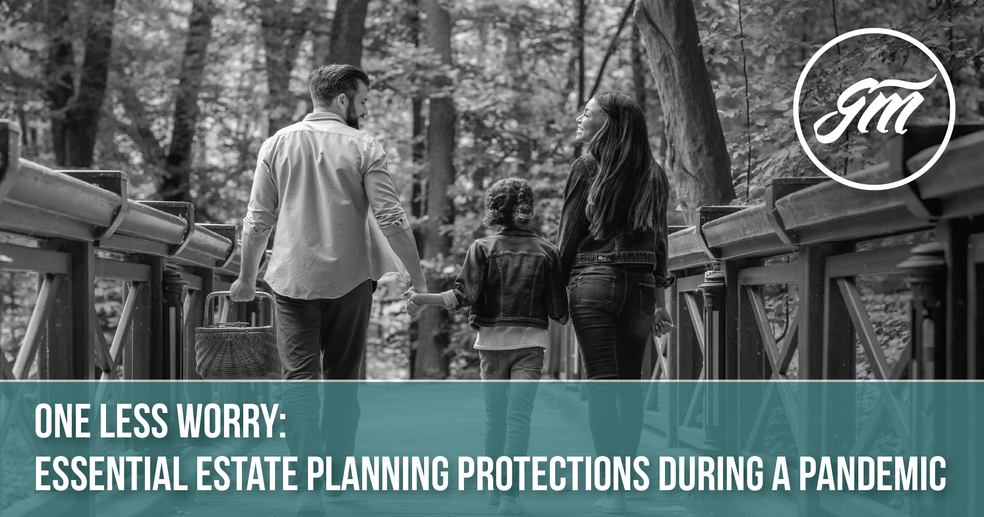 There's nothing more important than family, especially during a time of crisis. As the world continues to cope with new uncertainties each day, many are looking for information—and a peace of mind—to put some basic estate planning protections in place. It's important to ensure your plan is prepared in compliance with state law by a licensed estate planning attorney. For nearly 40 years, our family law and estate planning team(s) have supported families through some of their toughest times. Here are the vital pieces to think about when planning for your family's future:

Create a Will or Revocable Trust
A Will or Revocable Trust allows you to decide how and when your assets will be distributed. Both a Will and a Revocable Trust allow you to:
• Name someone you trust to carry out your wishes
• Name who receives yours assets
• Address tax planning
Revocable Trusts are usually more complicated and expensive to set up than a Will, but offer two main advantages:
• A trust avoids probate (the complex court process of proving your Will and distributing your assets).
• You can create a plan for your own incapacity in a trust to ensure you and your family are taken care of. This avoids a potentially expensive court process to establish a conservator to oversee your estate.
A Will is a simpler document and is a great option for simple estates. Wills name:
• The personal representative (sometimes called an executor) of the estate
• Who inherits what – including establishing a testamentary trust to manage inheritance received by your minor and young adult children

Appointing a Guardian for Minor Children
Naming a person to act as guardian for minor children can also be addressed in your estate planning documents.

Name a Health Care & Financial Proxy
While a Will or Trust are the cornerstone(s) of an estate plan, there are a few other essential documents that are necessary to ensure you are taken care of in the event you cannot care for yourself.
• Executing a Health Care Advance Directive allows you to appoint a Health Care Representative to carry out your health care instructions in the event you are unable to communicate.
• Similarly, a general Durable Power of Attorney appoints someone you trust to act on your behalf with respect to legal and financial matters. You can use the document to define exactly the parameters for their actions on your behalf.
Choosing someone you trust to make both financial and health care decisions for you if you cannot make them for yourself means you will be in safe hands when you are most vulnerable. An estate planning attorney will help you through the process of selecting and appointing these important fiduciaries.

Where to Begin?
We know there's nothing more important than family and the law provides for many options when it comes to providing essential protections for them. Our goal is to help alleviate fear and anxiety by providing our time and resources as you work to protect those you care about most.
If you are interested in learning more, please call our office at (503) 227-1515 or
contact us online, anytime
. With current social distancing restrictions in place, we have a variety of ways to connect with our clients and provide them with the best service possible, including telephone and video conferencing.

For Our Heroes on the Frontlines of COVID-19
We continue to be profoundly encouraged by the community support happening all around us, especially during these uncertain times. Grounded in our mission of community and family, we remain unrelenting in our commitment to protect those who protect us.
As an expression of our deepest gratitude for the heroes who are sacrificing their safety and well-being to ensure our community remains healthy—
we are providing basic will packages including wills, powers of attorney and advance directives to active frontline first responders in our community.
Learn more at Gevurtzmenashe.com/firstresponder
*This is general information only and not meant to provide specific legal advice. *
Authored by
Sara Winter
, Estate Planning, Gevurtz Menashe. Sara is a recent transplant from Texas (and pending Oregon State Bar admission) where she spent nearly a decade focusing her practice on general estate planning matters. Sara also holds a Master of Laws (LL.M) in Taxation, giving her practice a special focus on tax planning.