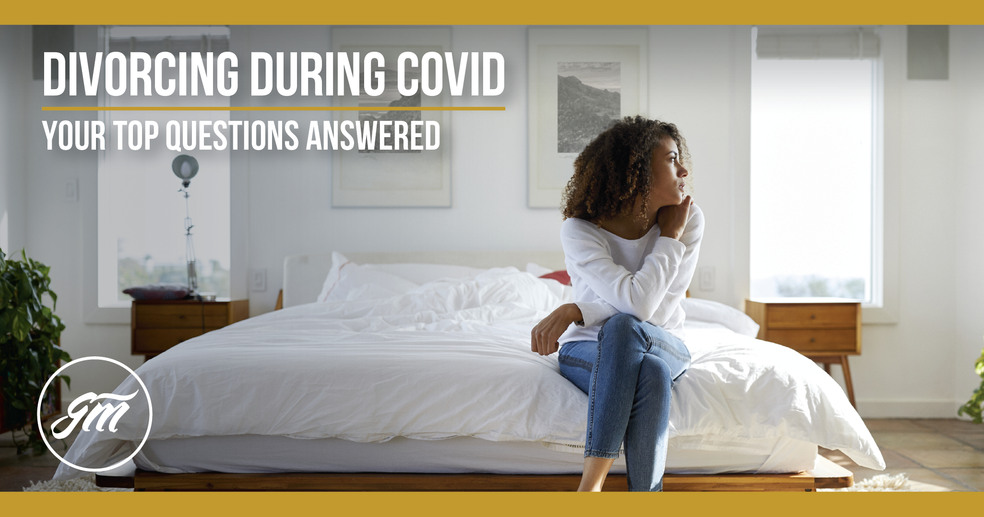 We know better than anyone that getting a divorce can be stressful. Getting divorced in the midst of a global public health crisis can make an already challenging process seem overwhelming. As states begin to "re-open", and couples emerge from quarantine, we've seen a spike in divorce consults—a nearly 18% increase, in fact, from this time last year. As many have predicted, and China has already
reported
, the COVID-19 public health crisis has upended the lives of people around the world, leaving many couples with the desire to "social distance" from their spouse.
But what does separating or divorcing a spouse look like in the age of COVID when many attorneys are working remotely and local courts remain operating at limited capacity?
Here are some top FAQs and solutions being applied to divorce cases during the COVID era:
1. Is right now really an effective time to get a divorce?
The added challenges of living in a world of social distancing, full-time home-schooling, economic hardships, working from home, and the overall anxiety of an uncertain future, can put an extra strain on relationships. The Family Law community in Oregon and Washington have embraced these new challenges and created innovative ways to help parties navigate the divorce process.
Quick note about safety:
For some, the unprecedented stress of the pandemic can create unsafe situations in homes where violence is an issue. If you're a victim of abuse, or know someone who is, Oregon and Washington courts will resolve emergency matters, including providing domestic violence victims access to protective orders.
2. Will an attorney be able to effectively work on my case?
Absolutely! We are well-versed in supporting families through some of their toughest times. Although operations look a little different, as we take the appropriate precautions to keep us all safe, we remain fully operational and available during our normal business hours. Virtual client consultation (zoom or phone) are now our everyday norm. We've also drastically
enhanced our use of cloud-based document share technology (such as Dropbox and Sharefile). This not only reduces paper waste, but also significantly streamlines communication. Also, for the first time, the courts are now allowing digital signatures.
3. Can a divorce be filed during the pandemic?
While the courts have implemented limited schedules to comply with state and local regulations, a divorce can still be initiated during the pandemic. Throughout the pandemic, the Court has remained open emergency circumstances regarding physical safety. Different counties have adopted different approaches to what matters can be heard and when, so it is important to check the rules adopted by your specific county. The Court has taken steps to adapt to the changing circumstances; for example allowing certain matters to be heard virtually or telephonically.
Most courts have also issued temporary orders and guidelines to help parties navigate non-emergency matters, such as how to facilitate parenting time matters to accommodate for Covid-19 concerns, and some possible steps to obtain relief from your support obligations in the event the pandemic has caused you financial hardship.
4. What does the divorce process look like right now?
As noted above, a divorce can be initiated during the pandemic. Different counties have adopted different rules for how and when a divorce can proceed during the pandemic so it is important to know the process adopted in your specific county.
Each county has adopted rules to address temporary matters that commonly come up during a divorce, for example establishing a temporary parenting plan or requiring one party to pay the other support while the case is pending. Some counties continue to resolve these issues traditionally or in person, while others have adopted procedures for hearings to occur remotely.
One likely outcome of the pandemic for divorces in some counties is that it may take longer than usual to complete the dissolution process. However, more cases than ever are being resolved outside of court via settlement; meaning that potential limitations in accessing the Court does not prevent parties from resolving their issues outside of Court.
For parties that find they do need the help of a Judge to resolve their disputes, but want to have greater control over the timing for when their case can be heard, it is possible to hire a Reference Judge. A Reference Judge has the same authority to resolve disputes as a Circuit Court Judge and typically will be able to help parties to a dissolution through their entire case more quickly than the normal process through the County; but the parties must pay the Reference Judge's hourly rate as part of the process.
5. Will I be able to go through the process safely, adhering to all social distancing measures?
Attorneys and mediators have quickly adjusted to the "new normal" and have adapted their practices to comply with social distancing restrictions. This means that you and your spouse can and should attempt to resolve your issues in mediation, or by using other types of alternative dispute resolution, adhering to social distancing measures, whether that is with or without attorneys assisting in the process.
6. What if my case is more complex and needs to be litigated? Are their in-person options?
Family Law trials in many Oregon and Washington counties are being set as far out as summer 2021, which is understandably discouraging to many clients. While limitations on large gatherings are in effect, we are renting out the 4,000 square-feet of vacant ground-floor commercial space at our office, for in-person depositions, mediations, hearings, and trials. The space allows for plenty of social-distancing and an opportunity for clients and attorneys to push their cases forward with an on-site Reference Judge, typically resulting in a quicker resolution.
7. Will the ability or inability for my kids to go back to school in the fall impact custody and parenting time?
School closures have created unexpected and unprecedented issues with regard to parenting and visitation with families. If you are concerned with how your family will deal with parenting time if children cannot return to school, you are not alone. Courts expect parents to conduct themselves in a way that prioritizes the safety and well-being of children; however, how to best meet that objective will be different for each family and each unique set of circumstances.

Our firm has been diligent to stay current on requirements, recommendations, and guidelines governing parenting issues in both Oregon and Washington. Generally speaking, the presence of the virus in your state or county, in and of itself, should not affect a parent's ability to exercise his or her parenting time. Furthermore, the exchange of children to effectuate parenting time has been deemed 'essential.' If you have specific questions about the circumstances in your case, our team is here to help you.
We can help.
For nearly 40 years, Gevurtz Menashe family law and estate planning has supported families through some of their toughest times. If you'd like to explore more about the divorce process and what that looks during this unprecedented time, call 503-227-1515 or visit our contact us page.

*This is general information only and not meant to provide specific legal advice. *
Authored by Shawn N. Menashe, Managing Shareholder and family law attorney at Gevurtz Menashe. Shawn is a member of the Oregon State Bar and focuses his practice exclusively on family law issues such as divorce, parenting and custody issues, child and spousal support, and relationships agreements.