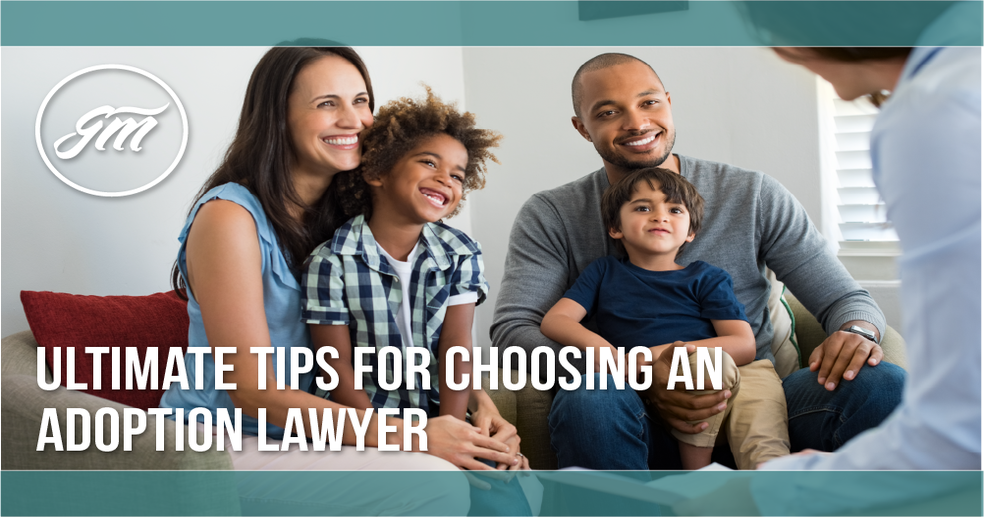 Creating or growing your family through adoption is exciting. But it's also incredibly complex, which is why having the help of an adoption lawyer is a smart move for you.
In this post, we first explain the merits and other considerations of hiring an adoption attorney. Then we will provide you with our best tips and recommendations for finding the ideal adoption lawyer for your family.

Introduction to Adoption Attorneys

When it comes to adoption lawyers, certains questions surface repeatedly. So, before we discuss tips for finding the perfect adoption attorney — let's frame things up with a few basics.
What Do Adoption Lawyers Do?
What an adoption lawyer does for you can vary. They're capable of assisting your family in numerous ways, but it really depends on what your situation requires.
That said, an adoption lawyer's primary function is to use their legal expertise to aid you in pursuing an adoption. This can entail:
Providing general guidance on adoptions and the process

Helping you find an adoption agency

Completing and submitting paperwork

Representing you in court

Helping to resolve issues related to parental consent, international adoptions, and more
Why Do You Need an Adoption Attorney?
As you can see, adoption attorneys handle quite a bit. And they do it with the backing of training and experience. Because of this accumulated and exercised expertise, working with a qualified and caring adoption lawyer can be a key to your success.
Adoption lawyers can make the end-to-end adoption experience easier, cheaper, and quicker by helping you navigate this complicated endeavor.
How Much Does an Adoption Lawyer Cost?
Be prepared to spend a significant amount of money on the adoption process. In the US, adoptions often cost between $3,000-$70,000. Factors that influence the cost can include:
Type of adoption

Adopted child's country of origin

Whether you're working with a private adoption agency

The nature and magnitude of any special circumstances

Whether or not the adoption is being contested

The hourly rate a lawyer charges

The extent to which lawyers, social workers, doctors, government agents, adoption specialists, etc. are involved
Because there are so many things that go into an adoption, it's not possible to say exactly how much an adoption lawyer costs. But, what we can tell you is that:
Attorneys may charge an hourly rate or a flat fee.

Preparation of court documents can range from about $500 to $2,000.

Legal representation can be in the ballpark of $2,500 to $12,000.
Adoption assistance is often available and worth looking into.
How To Pick a Lawyer for Your Adoption Needs
1. Pick a Lawyer that Specializes in Adoption Law
Only an attorney who works on adoption cases will have the depth of knowledge and experience necessary to usher your adoption through with the utmost speed and expertise. This is especially true if there are complications or if the adoption is contested. So, find out how many adoptions your prospective attorney has handled, if they have worked on out-of-state adoptions, and any other relevant adoption-related questions. An adoption-specific track record matters.
2. Get a Lawyer Who's Licensed in Your State
Each state has its own adoption laws. You need an attorney who knows both the legalities and is actually allowed to practice in your state. Looking for a lawyer in the Portland, OR or Vancouver, WA area? Gevurtz Menashe's child adoption attorneys can help!
3. Understand Costs in Advance
As part of your information gathering process, find out the expected total cost to engage each adoption attorney on your short list. If a particular lawyer is asking for a higher fee, make sure the qualifications justify it. You may find that a pricier lawyer is worth it if his or her experience is perfectly aligned with your criteria.
4. Be Up-Front with Any Special Needs
If you have any unique requirements and/or an atypical situation, disclose this as soon as possible to any adoption lawyers you're considering. Their response may inform your hiring decision.
5. Opt for a Lawyer Who's Available for You
Adoption is life-changing and sometimes things come up outside of regular business hours. Or maybe you don't have a Monday-Friday 9-5 sort of schedule. This is why it can be helpful to have a lawyer that is able to reply to messages or meet with you, even if it isn't always during the standard work week.
6. Do Your Research on Adoption
Get yourself well-informed about adoption in general, as well as the process and requirements for the type of adoption you're doing. The more you understand, the better you'll be able to assess the appropriateness of a given adoption lawyer for your needs.
7. Lean on Adoption Resources
If you have no idea where to even start, reaching out to legitimate non-profit adoption service organizations might help. These resources often have links to support networks, professional alliances, government liaisons, and more. As such, they often have links to legal industry trade groups and directories, like the American Bar Association, where you can search for adoption lawyers in your area.
8. Include Your Family in the Process
Adoption can be an emotional rollercoaster. The support of trusted and caring family and friends can help you remain even-keel, which can make it easier to think clearly and stay focused on the tasks at hand. Plus, any who have first-hand insights into adoption, parenthood, and/or legal machinations may be able to give advice on retaining an adoption lawyer.
9. Find a Lawyer Who "Gets" You
It's critical to team up with an attorney who can identify with you and your family and what you're going through. You'll be working together closely for an extended period of time on a transformative life event — it behooves you to have a lawyer you're comfortable around.
10. Interview Multiple Prospective Adoption Lawyers
Consult with at least a few lawyers before deciding to hire one. This is a great way to learn about each prospect's experience and how it might align with your particular adoption needs. You'll also be able to sense if there's rapport, how communication flows, and more. Talking with more than one attorney will help you evaluate the quantitative and qualitative credentials of each lawyer. Speaking with a variety of attorneys should help you narrow down your options.
11. Trust Your Gut

There's something to be said for intuition. If something just feels "off" or you're getting the vibe that a particular adoption attorney isn't a good fit — that's okay. Listen to your instinct and find another lawyer who doesn't trigger internal alarm bells or red flags.

Hire Gevurtz Menashe — The Oregon & Washington Adoption Attorneys You Need
At Gevurtz Menashe, you'll find adoption lawyers who can help you with every aspect of the adoption. With decades of successful adoptions completed, we're thoroughly versed in Oregon's and Washington's laws and practices, different kinds of adoptions, and all the possible steps of the adoption process.
Are you ready to embark on the journey of a lifetime? If so, let us be your guide and partner.
Contact us today
so we can help ensure a smoother path to adoption.