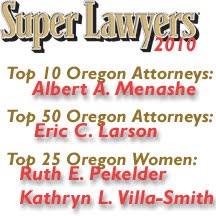 It's one thing to boast of your talents; it's quite another to be recognized by your peers for them. SuperLawyers is a very respected, third-party attorney directory that bestows the "SuperLawyer" title to attorneys who are nominated by their peers. We are very proud to announce our SuperLawers for 2010:
Top 10 Oregon Attorney
honor: Albert A. Menashe.
Top 50 Oregon Attorney
honor: Eric C. Larson
Top 25 Oregon Women Attorney
honor: Ruth E. Pekelder, Kathryn L. Villa-Smith
Oregon SuperLawyer honor was also given to Shareholders: Andrea J. Anderly, Saville W. Easley, Julia M. Hagan, and William J. Howe III.
Oregon SuperLawyer Rising Star honor was given to Associates: Dylan M. Cernitz, Zach J. Fruchtengarten, Shawn N. Menashe, Sharnel K. Mesirow, and Alex P. Sutton.
Congratulations on this high honor!