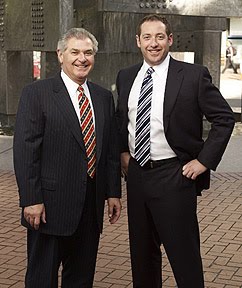 As an important part of the Gevurtz Menashe family, I want to share with you some exciting news. As you may have read in this morning's Oregonian newspaper, after nearly 30 years as managing shareholder I'm passing the baton. This past week my son, Shawn Menashe, took over the role of managing shareholder. While Shawn takes over the day-to-day management, I'll continue practicing law with the firm full time.
Since co-founding Gevurtz Menashe in 1982, I've watched as Shawn grew from child to lawyer. After graduating near the top of his class at University of Oregon School of Law and passing the Oregon Bar exam in 2003, he joined the firm as an associate attorney. On January 1, 2009, he became a partner.
I am proud of Shawn's growth as a lawyer, but also his dedication to community involvement. He is active in a number of non-profit organizations, including Make-A-Wish Foundation of Oregon, American Red Cross, and the Oregon Zoo Foundation. Shawn has also been named a "Rising Star" by Oregon Super Lawyers® magazine each year since 2008 and "40 Under 40" by the Portland Business Journal in 2008.
Shawn had multiple offers from other firms and could have chosen any number of areas in which to practice, but he chose family law and to work with me. That is so very gratifying, as a father and as a lawyer. Please welcome Shawn as he works to ensure that Gevurtz Menashe continues to serve family law clients and the community for decades to come.
Cordially,
Albert A. Menashe
Shareholder and Proud Father
---
Link
HERE
to Oregon Live Article.
Learn more about Albert A. Menashe
HERE