Mark Johnson Roberts Receives the 2014 MBA Professionalism Award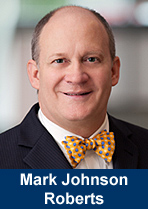 This month, we are thrilled to congratulate our own Mark Johnson Roberts as the recipient of the 2014 Multnomah Bar Association Professionalism Award. The MBA Professionalism Award is the organization's highest honor and recognizes candidates who exemplify the standards set forth in the MBA Professionalism Statement:
"Professionalism goes beyond the observance of the legal profession's ethical rules and serves the best interests of clients and the public in general; it fosters respect and trust among lawyers and between lawyers and the public, promotes the efficient resolution of disputes, and makes the practice of law more enjoyable and satisfying.
"
Johnson Roberts has been practicing law for 24 years. His nomination for the Professionalism Award was supported by numerous attorneys, judges, and law students from across the legal community.
Mark's history of service to the bar is extensive. He represents Oregon lawyers as the State Delegate to the American Bar Association. He is a past president of the Oregon State Bar, a past president of the National LGBT Bar Association, and a past chair of Oregon's Professional Responsibility Board.
In addition to his bar activities, Mark has spent years serving the Portland community and advocating for marriage equality for gay and lesbian couples. After 20 years of activism with Basic Rights Oregon and others, Mark and his partner of 30 years, Jay Roberts, were at last able to celebrate their marriage in Washington state this last December.
BIG
Congratulations, Mark, both on your marriage and on this well-deserved honor!
Read more about Mark
HERE
.