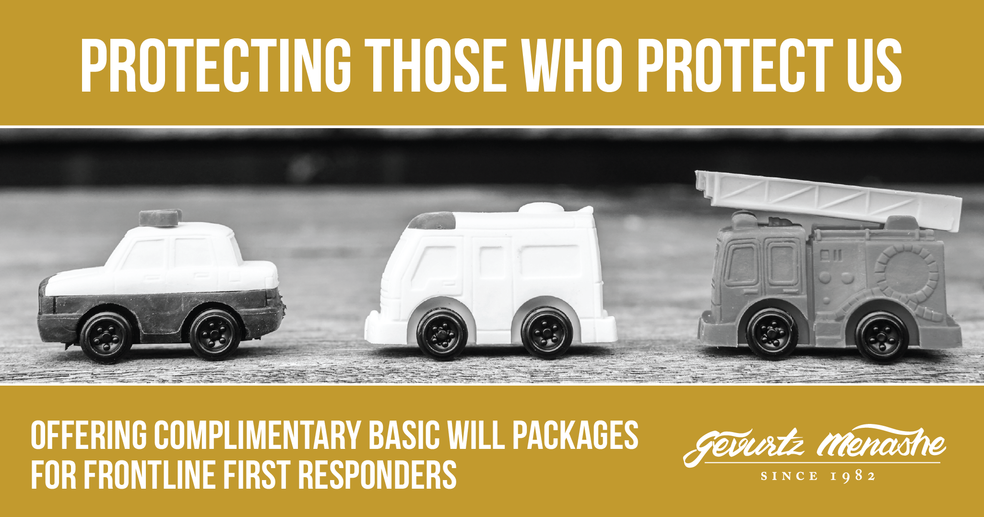 For nearly 40 years, Gevurtz Menashe family law and estate planning has supported families through their toughest times.
Gevurtz Menashe law firm was proud to offer complimentary basic estate planning services to first responders throughout 2020.

As part of this program—and our gratitude for the heroes who are sacrificing their safety and well-being to ensure our community remains healthy—we are providing basic estate planning documents including wills, powers of attorney and advance directives to active frontline first responders, in our Oregon and SW Washington community.

We know there's nothing more important than family and as the world continues to cope with new uncertainties each day, many are looking for information—and a peace of mind—to put some basic protections in place. Our goal with this program is to help alleviate some of the fear and anxiety, among our teams of first responders, by providing them with resources and basic estate planning documents, as they continue to protect their families.

Managing Shareholder, Shawn Menashe, is humbled to support our frontline heroes who deserve our deepest appreciation for their dedication and commitment. "We continue to be profoundly encouraged by the community support for our frontline first responders, especially during these uncertain times. As the world continues to cope with the impact of COVID-19, we are incredibly grateful for our heroes on the frontlines, who make a critical difference in our lives. Our deepest hope with this program is to take care of them and their family, so they can continue caring for our community."
Interested In Learning More?
Qualified frontline first responders can give us a call at 503-227-1515 or contact us online to learn more or to schedule an appointment.

Read more about how we're taking care of our team, clients and community during this time.