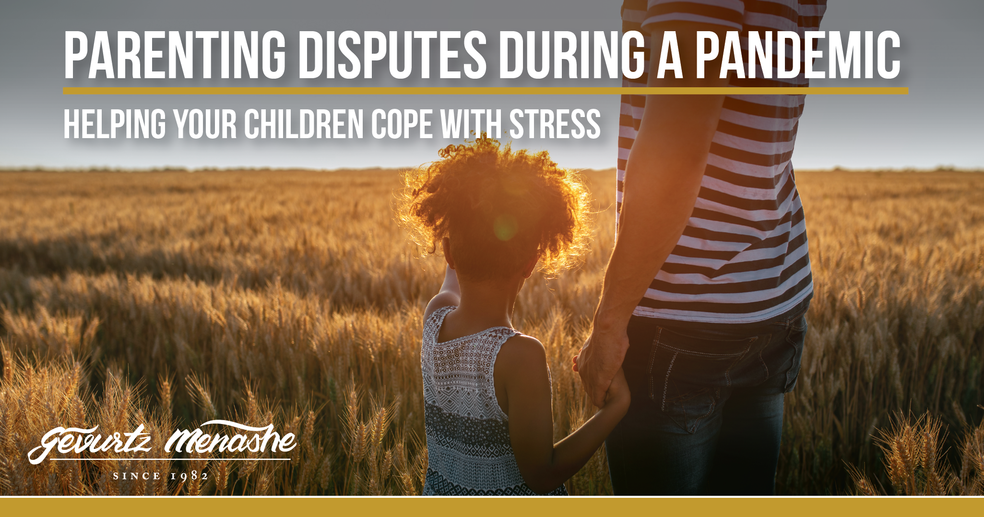 If we didn't know it before, we know it now: kids are resilient. Since COVID-19 reared its ugly head about a year ago, most of us have been challenged in ways we never could have anticipated and that includes our children. As parents, we do our best to shield our kids from the fear and uncertainty that accompanies a global pandemic, but it's not always possible to keep them in the dark. Our children have had to adapt to remote-learning models, degrees of isolation, and—in some cases—shifting family dynamics. If you have a shared custody arrangement, it's also possible that your family has experienced some new form of parenting dispute in the past year. Parenting disputes can be especially trying during this time because we're encountering situations that have never arisen before and our family's health and wellness are at stake.
While we can't completely insulate our kids from the reality of the (sometimes dire) situation, we can do our best to stay positive and set a good example for them. So much of their ability to thrive in this 'new normal' depends on our ability to support them and give them grace. It's their first pandemic, after all. We should go easy on them.
As we navigate this ever-changing post-COVID world, here are some ways you can help your kids manage stress in the midst of changing family dynamics and novel parenting conflicts.
Present a United Front:
Ideally both parents will be on the same page about any adjustments to the schedule or parenting plan before it reaches the children. Involving the children in discussions or planning before any changes are concrete or agreed puts them in a very difficult position. It can be extremely confusing and stressful for children to hear one thing from one parent and something else entirely from the other. Unless and until a plan or change is final or agreed, it's in your children's best interests for them to be uninvolved and unaware.
Consistency and Quality Time:
It may seem far-fetched to maintain a consistent schedule at a time like this, but even the little things can help reinforce their routine and give them some semblance of stability. This goes hand in hand with spending quality time together. Something as simple as having breakfast together every day or reading a book to your kids before bed can give them a chance to regroup and relax. Even if you can't do the same thing at the same time together every day, just spending five minutes doing something
they want to do
can have a huge impact. It can also be especially grounding for us as parents; it puts things into perspective.
Don't Burden Them with Adult Information:
In some ways, it can be healthy for kids to see that their parents are human and get sad sometimes because we can show them it's normal to experience emotions. It also gives us the opportunity to demonstrate appropriate ways to express themselves and, most importantly, pick themselves up and move forward. That said, when you're in the midst of a parenting dispute (especially during a pandemic), you're going to be dealing with a lot of emotional and financial stresses. If you find yourself needing support, lean on your family and friends or mental health professionals to help you get through it – not your children. Chances are there will be times when you're upset with your ex-spouse or co-parent and the last thing you want to do is burden your children with irritations about their other parent. That parent is always going to be your children's mother or father and you want to support that relationship because that's what's best for your children and, by extension, your relationship with your children.
Seek Extra Support for Your Children:
Even if your child is happy and healthy, parenting disputes (with or without a pandemic) can be very stressful and challenging. Enrolling your child with a child psychologist or counselor is a great way to allow your child to get the support he or she needs. Even if your child only meets with a professional once or twice, it's important to give your child the opportunity to have a safe place to share his or her feelings. You may also learn some valuable tools and information from your child's psychologist or counselor that will help you better support your child. Keep in mind, however, you should involve your co-parent in the decision to seek support for your child and choose the right provider together.
Take Care of Yourself:
Remember to give yourself a break from time to time. We, as parents, are only human and sometimes the best thing we can do for our kids is to take care of ourselves. Our kids feed off our energy and, if we run ourselves ragged, we are not setting a good example for how to manage our needs and wellbeing. We have the awesome gift and responsibility of shaping our children's lives. Let's take the opportunity to give them the best of ourselves and forgive ourselves when we make a misstep. Tomorrow is a new day.
WE CAN HELP.
If you are interested in learning more, or have questions about your current arrangement or how to navigate how to talk to your kids, we can help. Although most of us are working remotely, we continue to operate at full capacity and are available to schedule a consultation appointment via telephone or other virtual means. Feel free to
contact us online
or call our office at 503-227-1515.
Authored by Vancouver family law attorney,
Erica Aquadro
. Erica is a mom of three and member of both the Oregon & Washington State Bar(s). She focuses her practice exclusively on family law issues such as divorce, parenting and custody issues, child and spousal support.